---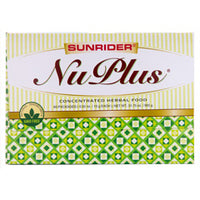 NuPlus® Concentrated Herbal Food blends herbal tradition and nutritional science. It's a balanced herbal formula based on the Chinese tradition of health maintenance through proper nutrition. Sunrider owner expertise integrates the Philosophy of Regeneration®—to nourish (yin) and cleanse (yang) the body—with sound nutritional research.
It's naturally low in calories, fat and cholesterol, and makes a smart choice to consume in between meals and at any time throughout the day. The all-natural, superior ingredients avoid chemical isolates, preservatives, added sweetener and fat.
Except for the Original flavor (which only comes in a box of 60), all flavors are available in 10 packs or 60 packs.
Recommendation:
Mix one package of NuPlus with 6–8 oz. (180 mL–240 mL) of water, Sunrider VitaFruit®, or Fortune Delight® at mealtimes. NuPlus also makes a wonderful, guilt-free between-meal snack.
Available in: Original / Regular (Soy-Free) (No Beans), Naturally Plain, Mixed Berry, Pina Banana, Apple Cinnamon, Simply Herbs (No Fruit)
Note: Sunrider uses non-GMO, whole soybeans, not "soy isolate."
The "Original" flavor contains zero soy.
10 packs (15g/ea) or 60 Packs (15g/ea)
All flavors except Original contain soybeans.
  Sunrider NuPlus Nutrition Facts

Serving Size  1 pkg in 8 oz of fluid

  Calories 60

Servings per container  10

  Total Fat 1g

Sat. Fat 0g

  Cholesterol 0mg

Sodium 15mg

  Total Carb 10g

Dietary Fiber 0g

  Sugars <1g

Protein 3g

Sunrider NuPlus Ingredients Include (Fruit Flavors): Coix Lacryma, Jobi Seed, Soybean Seed, Chinese Yam Root, Euryale Ferox (Fox Nut) Seed, Nelumbo   Nucifera (Lotus) Seed, Nelumbo Nucifera (Lotus) Root, Pyrus Malus (Apple) Fruit (Other fruits, depending on flavor), Lilium Brownii (Waterlily) Bulb & More. Contains Soybeans.


NuPlus Simply Herbs includes the ingredients above, without the fruit.

NuPlus Original (Soy-Free) available in 60 pack only.