---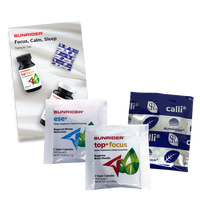 These "mini-sample sets" contain individual packets of three targeted Sunrider® products, designed to help you with - as the name suggests - focus, be calm, and sleep well.

Included:
Calli® Night (1 packet): You can drink it during the day to help you relax when under stress. There are no chemicals or caffeine added to this all-natural formula.
Top® Focus (2 capsules): Natural ingredients ideal for work, school, sports, and anytime you need to perform at your best. 

Ese® (2 capsules): Helps to calm and clear the mind, and is especially helpful as a natural remedy for anxiety, restlessness, sleeplessness, and stress.

Focus, Calm, Sleep Mini-Brochure: Provides more product details and instructions for use.