---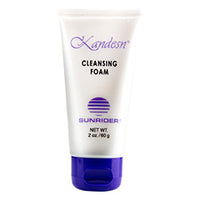 Sunrider's Kandesn
®
Cleansing Foam removes even the finest traces of water-based impurities. It is the second step in the Kandesn
®
Basic Skin Care Regimen.
Made with an exclusive combination of superior herbal ingredients, Kandesn® Cleansing Foam moisturizes naturally while cleansing gently yet effectively. The exclusive formulation is slightly acidic to be in balance with the skin's natural pH and to harmonize with the skin.
Recommendation
Add a small amount of water to a pearl-sized amount of Kandesn®Cleansing Foam to activate. Rub until foam lathers. Apply gently over face. Rinse off with warm water and dry with a clean, cotton cloth. Follow with Kandesn® Balancing Splash and Kandesn® Deep Moisture Lotion.
Nt. Wt. 2 oz./60 g
Paraben Free