---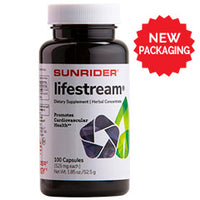 The Lifestream® supplement from Sunrider is designed to address the circulatory system with "water element" herbs that help promote balance and fluidity throughout the body.* This formula enhances adequate movement of blood through the body, which is crucial to good health.*
The Lifestream® formulation is also is also part of the five "components" of Sunrider's Quinary product too.
Based on the Philosophy of Regeneration®, Lifestream ® is designed to maintain optimum health through proper nutrition and keeping the body in balance. Exclusively formulated with a proprietary blend of concentrated herbs for effectiveness, Lifestream ® is a unique combination of Eastern herbal tradition and Western science.
Enhances adequate movement of blood through the body, which is crucial to good health.*

Keeping the heart strong and healthy is a specific component of the formulation with herbs known for circulation-strengthening activities.*

Herbal ingredients include sophora flower, dwarf lilyturf root, and gout eng.

Designed to address the circulatory and promote balance and fluidity throughout the body

.
Ingredients Include: Tora Seed, Gou Teng, Sophora Flower
* These statements have not been evaluated by the Food and Drug Administration. This product is not intended to diagnose, treat, cure or prevent any disease.