---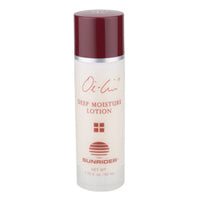 Oi-Lin® Deep Moisture Lotion provides the skin with intense hydration that's sealed in so your skin stays hydrated and healthy. It's the last step in our Advanced Skin Care Regimen.
We use an advanced formula that contains vegetable and citrus extracts, as well as essential oils, to naturally soothe and moisturize the skin. The rich blend of botanical extracts and natural emollient oils provides concentrated moisture and hydration. Never sticky or greasy, Oi-Lin® Deep Moisture Lotion is lightweight and easily absorbed.
Recommendation
After cleansing your face with Oi-Lin® Warm Facial Scrub and applying Kandesn® Astringent with a cotton ball, apply Oi-lin® Deep Moisture Lotion in the morning and at night to add vital moisture.
Net Wt. 1.75 fl. oz./50 mL
Paraben Free