---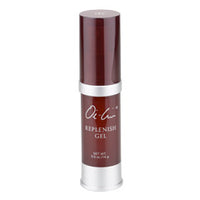 Designed to hydrate the delicate eye and mouth areas that are especially prone to wrinkling. It also is ideal for other areas of the face that require gentle yet intense hydration.
This anhydrous gel helps moisturize and smooth the skin. The antioxidants in this advanced, rich formulation help combat the effects of free radicals, which cause fine lines and wrinkles in skin. Owner expertise produces an exclusive formula that seals in moisture in wrinkle-prone areas and provides a gentle emollient effect without a greasy feel.
Wake up with the softest skin imaginable by applying a thin layer to your face at night as an intensive moisturizing mask.
Recommendation
Apply Oi-Lin® Replenish Gel gently around the eyes, or any other area in need of intensive moisturization.
Paraben Free
Net Wt 0.5 oz./14 g