---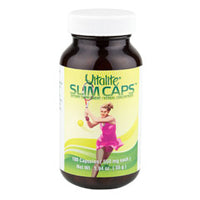 Formulated with owner expertise and based on the Philosophy of Regeneration®, Vitalite® Slim Caps™ supplements are designed to work synergistically with the body's own natural cleansing systems.* Vitalite® Slim Caps™ are designed to give you a jump start on a healthy lifestyle that will help promote longevity and happiness.
Unlike many other weight-management products on the market today, Vitalite® Slim Caps™ are all-natural, made without chemical and synthetic additives. Because Vitalite® Slim Caps™ are designed as part of a sustainable weight-management program, we also recommend daily exercise in combination with a sensible diet, including high-fiber, low-fat foods such as vegetables, fruit, lean white meats, or fish.
Key Ingredient Info:
Capillary Artemisia Stem

 may enhance your gut biome, helping to cleanse the intestines. Aids healthy digestion and promotes the distribution of nutrients to cells.

Gardenia Flower

is known as a powerful antioxidant in Chinese medicine.

Chinese Rhubarb Root

supports the lower bowel, stimulating bile and digestive fluids, which can also support liver function and waste elimination.

White Peony Root

 nourishes the blood, while increasing vitality.

Rehmannia Root

is generally found in traditional herbal formulas as a kidney tonic.

Chinese Goldenseal Root

is a very

 strong herbal antioxidant, and antimicrobial. It

helps with 

the flow of bile and

aids the body in

 fighting infections.
Recommendation
Start with 1 or 2 capsules to gauge your body's reaction. Then increase as needed. Maximum recommended dose: Take 4-6 capsules 2 times per day with meal.
NOTICE: This product contains Rhubarb Root and Aloe Vera. Read and follow directions. Do not use if you have or develop diarrhea, loose stools, or abdominal pain because Rhubarb Root and Aloe Vera may worsen these conditions and be harmful to your health. Consult your physician if you have frequent diarrhea or if you are pregnant, nursing, taking medication, or have a medical condition.
110 capsules per bottle
* These statements have not been evaluated by the Food and Drug Administration. This product is not intended to diagnose, treat, cure or prevent any disease.